Garden Design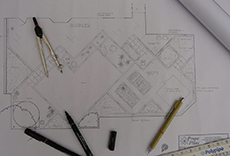 We thrive on the challenge of designing and planting gardens of all shapes and sizes. Milton Keynes gardens can offer awkward levels, heavy soils, and poor drainage, but with good garden design, proper construction and the right plants in the right places, we can deliver your perfect garden.
We can offer the complete design process, from the initial visit, through the stages of design, specification, quotation and construction to create your ideal garden.
We can also create scaled designs for you to build yourself, or quote on designs from others, we are flexible in what we can offer.
We understand that most people have a budget and we enjoy working within this where possible. We employ cost effective design solutions and innovative use of new and old materials.
Our approach is to respect your needs, the environment and the style of your property. We interpret these requirements to make the best use of the space and fulfil your expectations.